The Beach Camp was situated in the Cape West Coast Pensinsula – Paternoster South Africa. The flavor of accommodation was alternative camping accommodation outside the small fishing village of Paternoster in Cape Columbine Nature Reserve on the West Coast of Western Cape. On the shoreline of the untamed Atlantic Ocean, was The Beach Camp, Backpackers Nature Camp. Guests would bury their toes in the sand, while sipping on their favorite drink. Accommodation was supplied in pre-pitched comfortable bedded Twin Tents and A-Frames – camping did not get more comfortable than this. The-Beach-Camp, West Coast Backpackers offered unique camping alternative accommodation – a place to relax; a place away from the ratrace. With communal ablutions (gas showers & Eco-friendly dry compost loos), communal kitchen equipped with gas burners and all the non-electronic utensils needed – typical of backpackers – had no electricity by choice. The Beach Camp's slogan was: "Come join us and rough it in comfort at The Beach Camp, South Africa – a Tourism Grading Council 3-star Backbackers / Hostel. It is all about nature".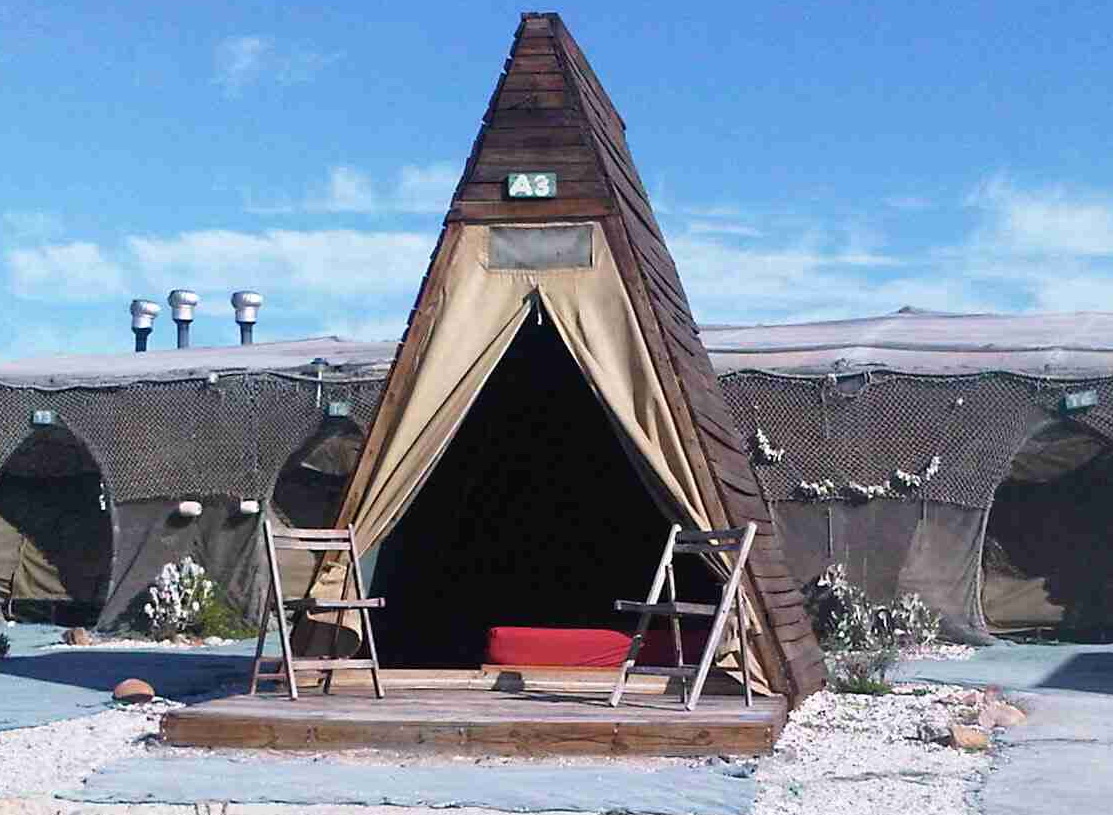 The backpackers camp is relatively protected against the prevailing wind and shade is plentiful in the lapa area. Here you can enjoy a refreshing drink at the residents only bar.Being in a Nature Reserve, no pets or electronic music allowed amongst other reserve rules. Pre-pitched accommodation consisted of four cozy wooden A-Frame huts with beds/bed-frames(a bed-frame is like a futon) that accommodated 2 people each.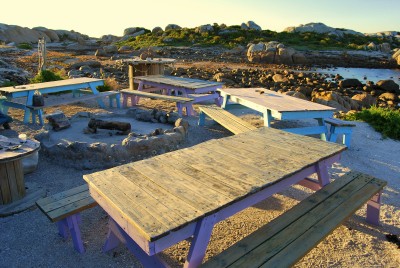 In addition there were also 6 comfortable Twin Tents with two single beds in each and 1 x 3-Man Tent with a double bed and a single bed in it. There was also a designated area for people to pitch their own tents and still have access to all the facilities as a Resident of The Beach Camp.
There was an equipped communal kitchen tent with all the necessary pots, pans and all other utensils for making a braai (barbeque), plus a communal cooler-box for those who didn't have their own. Ablutions included hot showers, Eco-friendly toilets, hand basin and even a mirror for the ladies. The Beach Camp was not dependent on electricity nor wished to be.
The Beach Camp were geared up for winter and ironically only got approximately 126mm of rain in the rainy season. More likely than not you will be soaking up the sun while it rains in Cape Town. Winter days are spent enjoying the gentle winter sun or exploring the reserve. For those avid surfers, bring your wetsuit and check out the swell report for Cape Columbine. This is a good base from which to enjoy any non-motorized water-sport.
Getting there was pretty easy. Drive along the R27 from Cape Town to Velddrif. About 10km before Velddrif, after going over a bridge you will see a big green board to Vredenburg. There is now also a new board to Paternoster – before the bridge. As you come off the bridge, turn left to Vredenburg. Drive all the way through Vredenburg and carry on with the road into Paternoster. At the first 4-way stop street, you will see a sign The Beach Camp pointing left, turn left. You will pass the hotel and the road begins to twist and turn past fisherman cottages. Stay on the road until you get to another 3-way stop street, here turn right. The road will turn into a gravel road. There are signs all along the route in Paternoster.
For more information you can contact us here.